First Tracks, Orientation Ski Trip - 1.6.17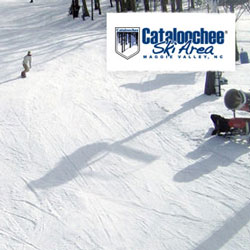 First Tracks, Orientation Ski Trip
Friday, January 6th, 2017
4:30pm-11:30pm
We will leave from Scott Blue at 5:00pm sharp and plan to be on the slopes by 6:30pm. Once we arrive at Cataloochee, meet at the group lodge (the first grey building on the right) where a BCC staff member will give you a lift ticket, rental form, and information for ski school. The BCC staff member will only give out lift tickets between 5:45 and 6:30pm. When the lifts close; return all rental equipment to the Cataloochee rental desk, and meet upstairs in the main lodge no later than 9:45pm. If you ride with BCC to Cataloochee it is required that you ride back to WCU with BCC. Plan on arriving back at campus between 11-11:30pm
Participants will need to bring their own warm clothes such as ski bibs, gloves, socks, and warm hat. Jeans and clothes made of cotton are highly discouraged. The weather is typically rainy, snowy, and/or cold so dress accordingly to stay warm. Dinner will not be provided so make sure to bring food or money for food. There is a snack bar in the ski lodge.
Reminder - Drinking at Cataloochee Ski Resort is not allowed on WCU sanctioned trips, no matter if you are of drinking age. If you are caught drinking you will be reported to Student Conduct at WCU. Please note that BCC has the right to refuse transportation to or from Cataloochee to any individual suspected of being intoxicated or under the influence drugs. If you are refused transportation it is your responsibility to find transportation home.
Registration Deadline - December 30th at 5pm
Ski Trip Pricing
Lift Ticket Only $25
Lift Ticket and Ski or Snowboard Rental $35
Lift Ticket, Rental and Lesson $45
PLEASE READ AND INDICATE "I AGREE" WHEN REGISTERING
Assumption of Risk and Liability Statement
Health Form: Participants are required to fill out a Health Information Form once per year. Once completed, we'll keep it on file for future trips. Save time by downloading the form now, fill it out, and return it to the Base Camp Cullowhee Adventure Shop at least 48 hours in advance of the trip. If you are under 18 years of age, your health and medical form must be signed by a parent/guardian.
Health and Medical Form
NOTICE: You are responsible for keeping up with your own equipment and any equipment assigned to you by Base Camp Cullowhee staff. Base Camp will assume no responsibility for lost or damaged personal or rental equipment. You must immediately report injuries/medical problems to a Base Camp guide. As with most outdoor activities serious injuries can occur such as dislocations, fractures, and head injuries, however the most common injuries are bumps and bruises. Please remember that you are accepting responsibility for these risks by participating in this activity. We take all precautions and with your help we can minimize these risks.