Fall Break: NRG, Canoe and Climb - 10.15-10.20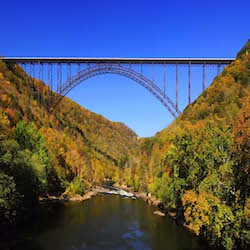 Fall Break: New River Gorge, WV Canoeing and Camping Expedition
October 15-20,2017
During this mini-expedition, participants will climb, canoe and explore the New River Gorge National Park. Participants will get to experience two days of climbing and an overnight canoe trip. No experience is necessary however, participants should be in good physical shape. On this trip, participants will learn Leave No Trace Principles, how to properly use gear needed for technical skills for each activity. Participants will be expected to demonstrate appropriate expedition behavior and maintain good decision making and judgement throughout the trip.
PLEASE READ AND INDICATE "I AGREE" WHEN REGISTERING
Assumption of Risk and Liability Statement
Health and Medical Form
Signup Deadline is 10/10 at 5pm
Student Price $340
Non-Student Price $365 (Faculty, Staff, and Guests)
There is a mandatory pre-trip meeting on Wednesday, October 11th from 8pm-9:30pm in the CRC Meeting Room.
NOTICE: You are responsible for keeping up with your own equipment and any equipment assigned to you by Base Camp Cullowhee staff. Base Camp will assume no responsibility for lost or damaged personal or rental equipment. You must immediately report injuries/medical problems to a Base Camp guide. As with most outdoor activities serious injuries can occur such as dislocations, fractures, and head injuries, however the most common injuries are bumps and bruises. Please remember that you are accepting responsibility for these risks by participating in this activity. We take all precautions and with your help we can minimize these risks.
For questions, contact Jeremiah Haas at jhaas@wcu.edu